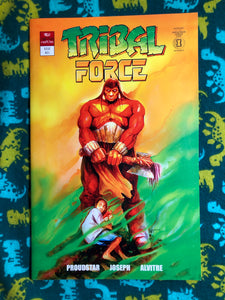 Tribal Force
In the Diné belief there are Five Worlds of existence. These worlds are bared from mortals. Nita Nitaal Nakia is the first to break the boundaries placed by the gods. What she sees as dreams or nightmares are glimpses into possible futures, parallel realities, mirrors of uncountable existences. With an inexhaustible array of possible endings, the unique factor presented before her is the last spoke in the wheel of reality. The last chance for everything to go right. With the wrong outcome as the end of human civilization as we know it.

Will the heroes of Tribal Force overcome the darkness which has permeated the last bastion of hope for mankind? Get your copy today to find out!
Creator(s):
Jon Proudstar, Ron Joseph,
Weshoyot Alvitre, Lee Francis 4 
Audience:
All Ages

Format:
28 pages, full color

Trim Size: 
6.625" x 10.25"