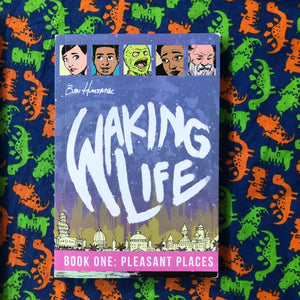 Waking Life, Vol. 1
Sometimes growing up means leaving your dreams behind. For Robbie Boone, childhood fantasies are giving way to a very real goal of being an animator. And he's giving it all he's got — even if he misses out on the rest of high school in the process. Enter the Princess of the Dreaming Realm, Robbie's childhood best friend. Sick of being outgrown by human companions, she's determined to find out what's so special about the Waking World. Unfortunately, that might be exactly what an old enemy's been counting on...ENCHANTED meets DEGRASSI, in a character-driven high school dramedy, inspired by Winsor McCay's classic comic strip LITTLE NEMO IN SLUMBERLAND.
Creator(s): Ben Humeniuk
Audience: All ages
Format: 200 pages, full color
Trim Size: 5" x 7.5"