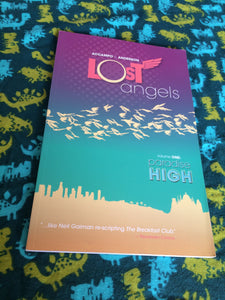 Lost Angels, Vol. 1
Alex Martinez doesn't get along with either of the factions at her high school - the humans OR the Angels. Welcome to the Silver City, an alien space station that crashed to Earth nine years ago, obliterating what was once Santa Monica. In its wake comes a new vision of Los Angeles, in which humans live alongside a race of winged aliens that look remarkably like our mythic conception of angels. When one of Alex's classmates at Paradise High dies while taking the Angel drug Ambrosia, only Alex - the human girl who lives in the highest spires of the Silver City - can solve the mystery of the drug trade and the buried secret that reaches from the peak of the Spiral Court to the dep recesses of Old Santa Monica. Written by David Accampo (SPARROW & CROWE) and illustrated by Chris Anderson, LOST ANGELS is an immigration story, a sci-fi mystery, a coming-of-age drama, and a crime story - all rolled into one.

Creator(s): David Accampo, Chris Anderson
Audience: Teen +
Format: 148 pgs, full color
Trim Size: 6.625" x 10.25"