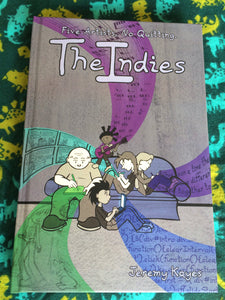 The Indies
Natalie Alastair doesn't have any real problems. She has a stable technical career, a
supportive social life, two cats and a childhood dream of becoming a professional artist. Unfortunately, she's been chasing her dream so hard for so long that she's burning out completely. Now, on the verge of giving up, Natalie must look to her closest creative friends to discover why art is too important to abandon.

Creator(s): Jeremy Kayes
Audience: All ages
Format: 168 pgs, B&W
Trim size: 6" x 9"