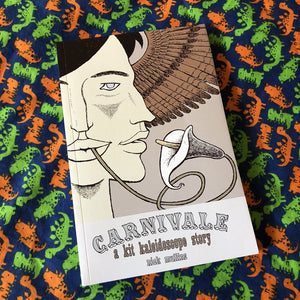 Carnivale: A Kit Kaliedoscope Story
Kit, a gravedigger, struggles with her painting and sense of self as she becomes interested in a local singer. Meanwhile, Kit's fellow gravedigger befriends an elderly woman whose stories cause the him to confront his own history. The painful details of his dead lover and Kit's own struggles come together as the town prepares once again for carnivale. Carnivale is a 190-page wordless story about art, relationships, and storytelling.

Creator: Nick Mullins
Audience: Mature
Format: 190 pages, full color with exciting muted palette
Trim Size: 6" x 9"