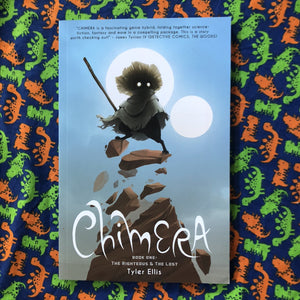 Chimera, Vol. 1
Haunted by their pasts, a crew of thieves is hired for a covert mission to steal a priceless artifact in the midst of a galaxy being ripped apart by an interstellar holy war. If they want to survive - much less succeed - they must navigate hostile worlds, vengeful aliens, a deranged demon, and betrayal from within. Features the first six issues of the new on-going sci-fi/fantasy series, as well as exclusive pin-up art. First printing.
Nominated for a 2018 Dwayne McDuffie Award for Diversity in Comics!
"Stellar world-building...Hard to resist: a charming group of rogues in a STAR WARS–ish universe that's far more adult, diverse, and relevant than George Lucas's...Ellis's character design and facial expressions are so akin to Fiona Staples's sprightly, tight art style that it's hard to ignore the flattery." - PUBLISHERS WEEKLY

Creator(s): Tyler Ellis
Audience: Mature
Format: 168 pgs, full color
Trim Size: 6.625" x 10.25"