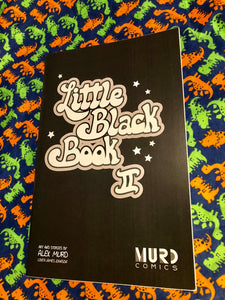 Little Black Book #2
Another 18+ queer oriented art book by Alex Murd!
Fans of Little Black Book I will be overjoyed with this follow up!
At standard comics book size, you can truly appreciate Alex's luxurious art style as the pages nearly come alive in your hands!
This issue also features artwork of that boyishly charming 80's submissive, Alan "Spike" Adrian and a beautifully handled 7-page love comic featuring the insatiable Johnny of Cinder fame and the devilish MC, Jasper!
Creator(s): Alex Murd, James Murd
Audience: Adults 18+ only
Format: 22 pages, B&W
Trim Size: 6.625" x 10.25"