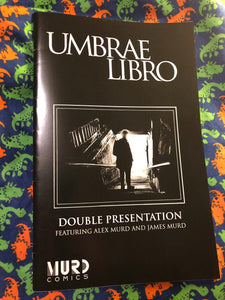 Umbrae Libro #1
This double issue features James Murd's first installment of EZRA: The Dreamer, and the debut issue of Alex Murd's 'Gimme Shelter.' 

EZRA: The Dreamer.
The end of the Beginning, or the beginning of the End? The opening sequence to Ezra's greatest conflict...

'Gimme Shelter' debuts a certain fallen angel and his grappling with divinity and humanity, during the hectic holiday season.
Creator(s): Alex Murd, James Murd
Audience: Mature
Format: 28 pages, black & white
Trim size: 6.625" x 10.25"