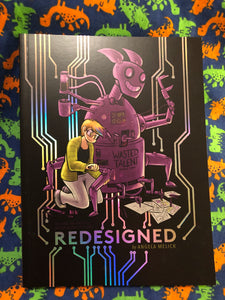 Wasted Talent Vol. 5: Redesigned
Meet NorthWind Engineering: the scrappy young firm that's out to solve the world's most challenging problems. As it turns out, the most challenging problem might be running the company itself!
Will they run out of runway before they run out of labspace?  Will they find a new office before the previous one burns down?  And what happens when the boss takes a break... for over a year?
Jam is a mechanical engineer in the midst of all of this chaos.  Along the way, they're still trying to build a life in Vancouver, with all of its bicycles, rain, shenanigans and lack of cats. Redesigned is the fifth and final collection of the hit webcomic that ran weekly for over 11 years, chronicling all of the silly true stories Jam encountered along the way. 
Onwards!
Creator(s): Angela Melick
Audience: All ages
Format: 168 pages, full color
Trim Size: 6" x 8"