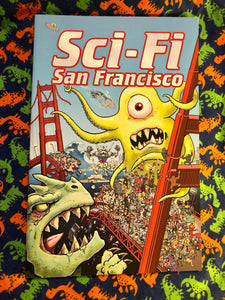 Sci-Fi San Fransisco
From the people who brought you The Comic Book Guide to the Mission comes Sci-Fi San Francisco, an anthology of speculative fiction comics set in the San Francisco Bay Area. Each of these stories is as strange as San Francisco itself:
When their rent in their version of San Francisco gets too high, a couple hires an interdimensional real estate agent.
A cat-loving wrestler wakes up in a distant future where he becomes the champion of a race of hyper-evolved felines.
A team of do-gooder biotech researchers discover their technology can make people beautiful. But is their sudden financial success really a good thing?
A mysterious blackmailer threatens to remove people's entire digital identities. But that's impossible, right?
An inventor, sick of SF's transformation into a tech mecca, travels back to the city's punk rock past.
An interplanetary accountant travels to San Francisco to discover why no one is spending money in the city anymore.
In the distant future, humans have become the city's underclass, enduring the verbal abuse of wealthy robots.
Creator(s): Chuck Whelon (cover), Lauren Davis, Stephenny Godfrey, Emma Dudley, Cheryl Leong, Jackie Lo, Walter Ricon, Yabette Swank, Eric Wong, Storm Arcana, Eli Bishop, Craig Campbell, Sean Chiki, Beth Dean, Danny Djeljosevic, Jamaica Dyer, Shaenon Garrity, Peter Glanting, Joe Hewitt, Claire Hoch-Frohmann, Philip Lambert, Jackie Lo, Ed Luce, Karen Luk, Jonas Madden-Connor, Diana Naneva, K. A. Polzin, Alfred Twu, Jeff Walker, Jono Xia
Audience: Mature
Format: 168 pages, B&W
Trim Size: 6.625" x 10.25"