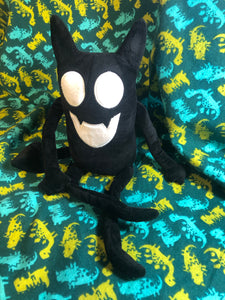 100 Demon Dialogues plushie
Based on the pesky protagonist from Lucy Bellwood's "100 Demon Dialogues" comics, this plush imp offers a perfect outlet for your imposter syndrome-related needs.

Ideal for admonishing, cajoling, and, if necessary, throwing down some stairs.

Made from super soft black and white plush fur with embroidered accents.

Demon measures about 14" from tip to toe and is weighted with PVC pellets to easily sit on any surface of your choosing.