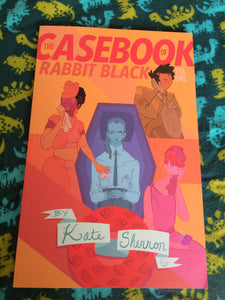 The Casebook of Rabbit Black, Vol. 1
"If Matisse made a comic, it would look like this."
- Adam Bolton (WHERE'S MY SHOGGOTH, GATEHOUSE)
"RABBIT BLACK is a fascinating look at a comic, a character, and a creator maturing at the same time. A true voice being born!"
- Paul Tobin, Eisner Award Winning and NEW YORK TIMES Bestselling Author of BANDETTE.
Word on the street is when you got a problem, Rabbit Black's the one to solve it. So when Rabbit winds up murdered (but not dead), he refuses to take such a grave matter lying down.

Creator(s): Kate Sherron
Audience: Teen +
Format: 96 pgs, full color
Trim Size: 6.625" x 10.25"