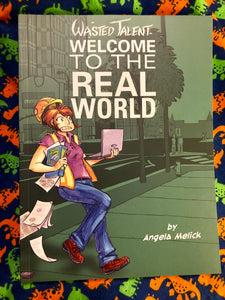 Wasted Talent Vol. 2: Welcome to the Real World
Wasted Talent is the autobiographical chronicle of Angela Melick, a.k.a. Jam, from her days at university through to her career as a mechanical engineer. Jam ran Wasted Talent as a web comic for 11 years, and chronicled her degree, two co-op jobs and three career jobs, five residences, a marriage and half a dozen broken bones. Book Two: Welcome to the Real World contains comics about graduating University and finding her way in the big wide world. Includes artist commentary, bonus art and behind the scenes material.
Creator(s): Angela Melick
Audience: All ages
Format: 152 pgs, full color
Trim Size: 6" x 8"